HOUZZ: 9 ways to colour-block your bookshelves
Brought to you by 
by Catherine Smith
Nothing makes true bibliophiles shudder more than the thought that their favourite tomes are mere accessories that can be bought by the metre. But unless you are cataloguing your home library in strict Dewey Decimal System (by subject for non-fiction, by author for fiction), there are no rules saying you can't have a bit of fun arranging your bookshelves to show off their beautiful outsides … once you've enjoyed their wordy (or pictorial) insides.
1. Start with a clean background
Sorting your books into colour grouping is elementary. The fun begins when you decide how to order your colours back on the shelf. The joy of this room's arrangement is the gradation – from navy through to the palest of pale blues, from burgundy to pale pinks, with pops of orange and red along the way.
Pale creams through to whites calm the arrangement, and an entire bottom shelf of black grounds the scheme. You'll be amazed when you look back at the shelf how the books make the rest of your furniture and accessories sing.
Use spotlights to highlight the joyous colours, pull up a cosy chair and a footstool. Who needs TV?
More: Shop a wide selection of wall shelves
2. Try going darker
As soon as you take out the pastels, and use only the strongest mid-to-bright colours, your books tell a different story. Here discipline wins (along with a huge collection of original Penguin titles with their distinctive orange covers) against a gentle grey background. The disciplined scheme in the furniture – deep, calming blue, see-through whites, just a little accent of red – allows the bookshelves to create the scheme.
More: View popular dining room designs
3. Or pop against black
Allow books-as-decor to take centre stage in the dining room by choosing invisible furniture. Now, take the look to the ultimate extreme by putting your blocks of colour against a black or dark charcoal background. The scheme works by giving the eye lots of breathing room: plenty of gaps of black; with a few well-chosen accessories in curvy shapes to contrast with the straight lines.
4. Calm a tiny space
This slim, sleek modern bookshelf has been tucked into a nook beside the fireplace, and could have felt cluttered if the books had been randomly dropped on the shelf.
However, the arrangement is particularly clever, drawing the eye up to the calming mix of black and white on the upper two shelves from the intermediate pastels in the middle and the brights at eye level. Airy shelves and airy furniture gives the library room to breathe in a small corner.
5. Entice kids with library-style displays
We adults may know how to find our way to our favourite title from the colour of the spine, but smaller readers are attracted by big, bright cover illustrations.
Kids' libraries know this well, so welcome beginner readers with narrow, front-on shelf displays – a dowel or stretchy curtain rod holds books upright. Colour-block the books so you can make finding the children's favourite story books a learning game, too.
BONUS TIP: Encourage young readers to try new books by having reading themes: a week of red books; a week of blue books; and so on.
Bright background stripes on the shelves make the book cover colours ping too. When the small sorts outgrow their baby books, use the niche to display small treasures, or photos and art arranged in change-out vignettes.
6. Create a corner for tiny treasures
You don't need to do walls and walls of books to get the full colour-block impact. A small cabinet nicely frames some of your special titles. Within the frame, play with books stacked horizontally, and a few accessories to create depth and energy in your display.
7. Black and white for impact
When you've edited your life – or at least your colour scheme – down to two colours, use books to help to continue the theme. This is not too hard to achieve if you are a collector of art, photography and design books –you'll notice a theme in much of their art direction and cover design.
Don't forget, they're called coffee table books for a reason. Pile your best – or latest – glossy books on the coffee table to continue your decorating theme, and invite guests to linger and browse.
8. Whet appetites with cookbooks in the kitchen
Colour theorists say that red stimulates the appetite, so it is no coincidence that many cookbooks have tasty red or orange covers.
BONUS TIP: Make sure your cooking books are for more than looking. A book with messy corners and splashes of grease reminds you of many happy hours cooking your favourite foods.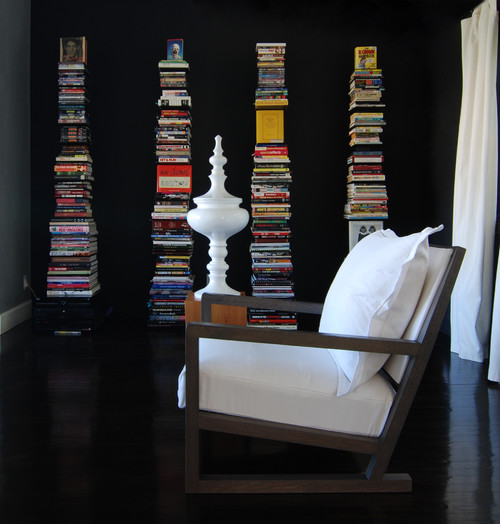 9. Colour block vertically
If horizontal shelves are too 'samey' for you, create columns of colour with vertical bookshelves. You may drive yourself crazy finding just the right number of covers for each stack, or play with complementary runs of colour. Use strong yellow (think old National Geographics) or Penguin orange to link columns.