HOUZZ: Bring back '80s style for good
How you can apply a timeless '80s look to your home's interior without making it look like the Beetlejuice set.
In association with 
By Leanne Amodeo
The 1980s will proudly go down as the decade that gave us leg warmers, Back to the Future and Steven Seagal's ponytail. While many of us flinchingly recall some of our own questionable fashion choices (yes, I had hair that made me look like the wannabe fifth member of Pseudo Echo), there's no denying the decade's enduring appeal. It continues to influence fashion collections, furniture pieces and hospitality and retail fit-outs in ways that are as memorable as they are dynamic.
So how can the '80s aesthetic be applied to your own home without making it look like part of the set for Beetlejuice? The quick answer is to keep it simple and don't go OTT. Remember, you don't want to theme your home, you just want to inject it with key '80s trends that complement rather than distract. The objective is to create a timeless interior with subtle references, not a mere copy of some bygone era.
Airbrushing
The '80s trend for airbrushing found its greatest expression in glossy paintings of the cosmos. Comets and planets collide in these kitschy scenes of outer space, but while they are very much of their time, they are still wonderfully collectible. This trend can also be modernised by increasing the scale at which it's applied, so instead of hanging a small artwork on the wall, why not paint the whole wall instead.
The airbrush's distinctly blurred edges work to great effect on a large mural (as seen here in Dulux's 2016 'Infinite Worlds' colour palette ), complemented perfectly by furnishings that are highly textural in finish.
Memphis style
The bold, graphic designs of Ettore Sottsass' quintessential '80s movement almost stole the show from Danny DeVito and Bette Midler in the 1986 movie, Ruthless People. Their home was a deliciously loud study in bright colour and geometric forms – a high-end Postmodern delight.
It's a look that's dated however, so to make it work today it has to be applied with restraint. Choosing a tri-colour palette. as seen in this living room. tones down the garishness, while geometric forms are confined to a few key furniture pieces.
Chequerboard and houndstooth
These black-and-white patterns were the epitome of '80s chic, with chequerboard flooring and houndstooth upholstery at the absolute cutting edge. These trends are also perhaps the easiest to re-imagine, as can be seen in the following two interiors. Instead of using large chequerboard in the kitchen, try small tiles for a more contemporary, high-end effect.
The reverse works with upholstery, so instead of using a small houndstooth print on seating, try a bold chevron print, which makes these pieces a feature that can complement any colour.
More: Browse thousands of living room designs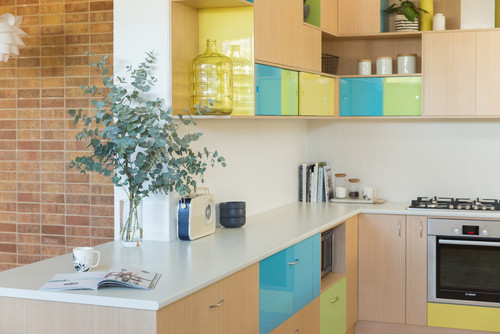 Pastels
If neon wasn't quite your thing in the '80s, then chances are you favoured pastels – and lots of them. It wasn't the decade for doing things by halves and so incorporating these candy-coloured hues in the home meant going to the extreme. While a pastel colour palette is still considered on-trend, it has to be applied sparingly, which is why this kitchen's design works so well. Coupling select pastels with blonde timbers still lends soft visual appeal, but it also modernises the look.
Neon
There's nothing more garish than fluoro pink, yellow or green, whether it's applied to an oversized slogan t-shirt or all four walls of a room. But neon works very well as an accent within a relatively neutral scheme. This home office, for example, is lifted by the unexpected inclusion of a fluoro pink chair, with a similar colour repeated in the framed print.
Neon-coloured artworks also serve to provide bold visual contrast in spaces with limited colour palettes, as seen in this living room.
Florals
While personal taste prevails when it comes to these popular prints, chintz does tend to date an interior. There are many variations on this popular '80s pattern, though; the secret is selecting the one you like best and using it on one key piece of furniture or furnishing, rather than on everything. This modern home office, for example, is lifted with the addition of a floral upholstered lounge seat.
Iconic motifs
The work of graffiti and visual artist Keith Haring was synonymous with '80s pop culture and was applied on everything, from large-scale murals to T-shirts. Although his animated figures were actually socio-political in their commentary, their bright colours and bold forms held instant appeal.
While including a Keith Haring-adorned quilt cover and wallpaper in a bedroom may be taking things one step too far, framed prints of the artist's work are an excellent tribute, as well as a tasteful way to inject colour into a space, as seen here. Haring's distinct colour palette can be coordinated with throw pillows and small furniture pieces, while walls and bedding remain white.
More: Shop a wide selection of home decor products
Indoor plants
Yes, maidenhair ferns abounded in '80s homes – from bedrooms to bathrooms their whimsically delicate little leaves were everywhere you turned. While succulents are the current plant trend de jour, any larger-leaf, robust variety of greenery will certainly update your look. The beauty of indoor plants is they work well in clusters or as a single feature in a statement pot, as is evident in this living room.
Animal print
This is an unexpectedly versatile trend because animal print works well when paired with virtually any other print. Like all '80s trends that work in a contemporary home, however, it needs to be used judiciously.
Confining the print to a key piece of furniture, feature wall or a rug is extremely effective, especially when it's the centrepiece in an eclectically decorated living space.
More: Get more from your home with the help of an interior designer